With fall comes pumpkin spice, the turning of the leaves, and the return of football. Whether you cheer for high school, college, or professional teams, keeping the players and armchair coaches of your household fed is no easy task. So this month, we're bringing you ten easy appetizers, meals, and game-day snacks to serve at your next tailgate party.
Pulled Pork Cheddar Biscuit Sliders
What sports fan doesn't love a slider? They fit in one hand, leaving you free to grab a cold beverage with the other or wave that foam finger high. But these sliders aren't the same as your average pulled pork sandwich. Instead, we've replaced the bun with our crowd-pleasing cheddar biscuits for a unique snack you could never get from a stadium concession stand.
Buffalo Chicken Cheese Balls with Ranch
Roll them, fry them, and watch them disappear. The one thing you'll never do is fumble these balls. But the best part of our Buffalo chicken cheese balls is that they contain all the flavor of the classic chicken wing without the saucy mess at the end. You'll never need to call a timeout in the middle of a tense game to clean up.
Chorizo Chile con Queso with Homemade Chips
Flavorful and easy to share, nachos are the perfect snack to feed your entire team. With this recipe, you'll learn how to make easy homemade chips and a queso sauce that's worthy of the hall of fame. The secret lies with the chorizo sausage and green chiles we add into the mix to spice our queso dip up.
Crispy Bite-Size Corn & Black Bean Burritos
Love game day but not all the meat? These crispy bite-sized corn & black bean burritos are the complete package for vegetarian sports fans. Easy to eat, easy to share, and packed with protein to keep your energy up through all four quarters.
Grass-Fed Ground Beef & Cheddar Quesadillas
Picture this scenario. The one o'clock game has gone into overtime, and now the kickoff for the four-thirty game is only twenty minutes away! So what can you do to satisfy an empty stomach without missing a moment of the action? Reach for one of our favorite go-to-meals in time-crunched situations—our grass-fed ground beef & cheddar quesadillas.
Two-Cheese Veggie Pizza Rolls
Don't endure the tough and pasty texture of store-bought pizza rolls for another week, and try these two-cheese vegetarian pizza rolls instead. Layers of onions, peppers, mozzarella, and Parmesan cheese sit hidden within the flaky spiraling dough. Not only are they tasty, but we doubt your guests have ever seen pizza rolls done like this. They'll never guess how easy they are to make.
Open-Faced Portobello "Cheesesteak" Sandwich with Oven Fries
You don't have to be a meat-eater to enjoy a good ol' cheesesteak! We swapped the beef for hearty and savory portobello mushrooms, paired with caramelized onions, sautéed peppers, and a creamy cheese sauce. This "cheesesteak" is a great dish if you are craving something a little more substantial than a medley of appetizers. And it comes with crispy oven fries too!
[Get the recipe.](https://dinnerly.com/menu/94465-open-faced-portobello-cheesesteak-sandwich-with-oven-fries "Open-Faced Portobello "Cheesesteak" Sandwich with Oven Fries recipe")
Honey-Chipotle Fried Chicken Tacos with Slaw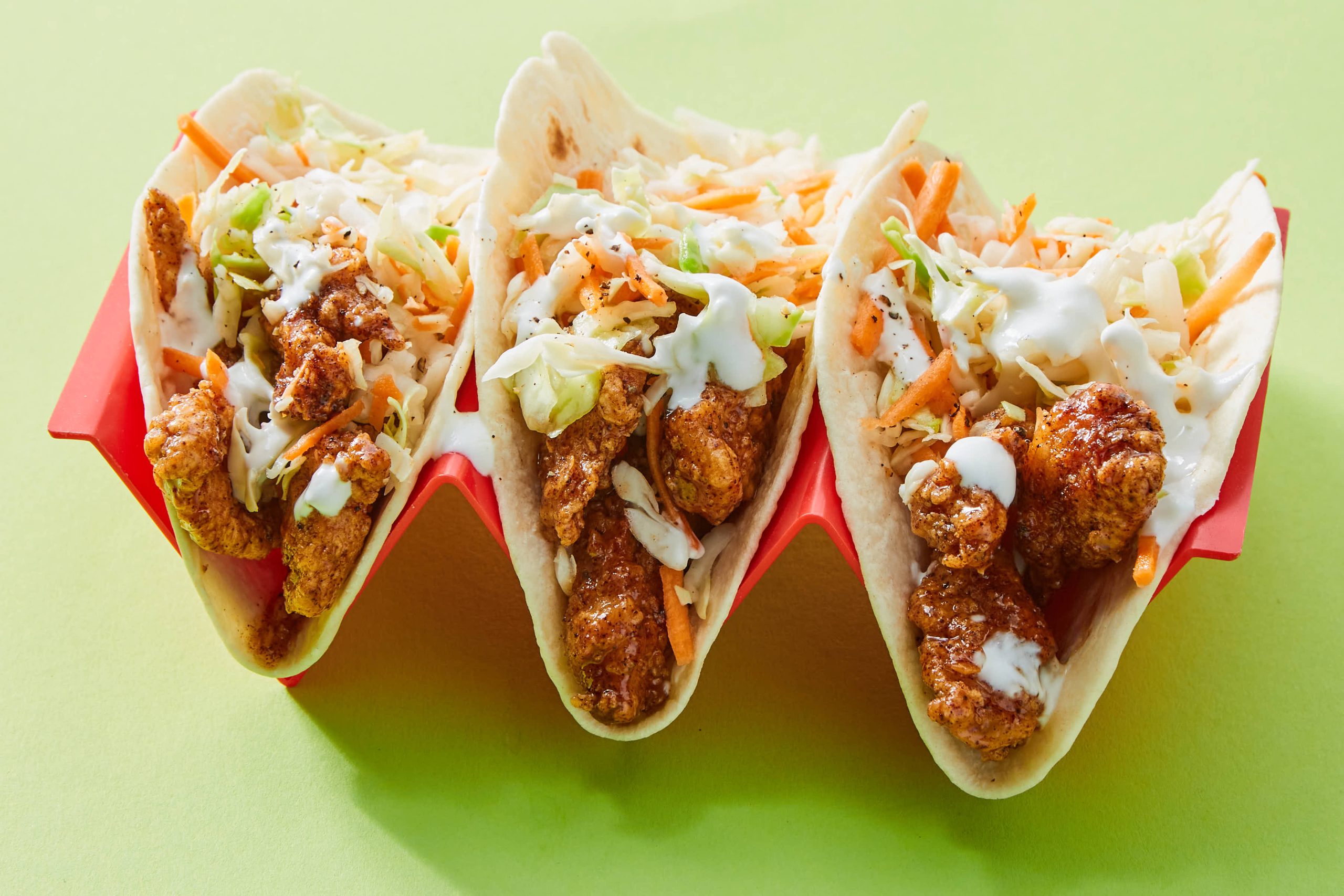 Sweet and spicy. Crunchy and creamy. These honey-chipotle fried chicken tacos prove how powerful teamwork is. Kids love this delicious combination of flavors and textures when you want a recipe the family will love (if you're in the mood to share) or simply enjoyed by yourself as a complete meal. It's a win-win situation.
Broccoli & Ricotta Calzone with Tomato Sauce
Touchdown! Rich in fiber and vitamin C, our broccoli & ricotta calzone cannot be beaten if you're looking for a healthy, vegetarian meal that will keep you or guests energized when the game is on the line. The crisp and flaky calzone crust is the MVP of this dish, a true champion through and through.
Cheddar Corn Muffins with Bacon & Maple Butter
Most people reach for salty snacks when they're thinking of game day finger food, but there is no reason why your tailgate parties can't include something salty and sweet. The best coaches know that a versatile and adaptable game plan is always a winning strategy. These cheddar corn muffins with bacon & maple butter will fit in neatly with the rest of your menu and be a hit among the home team.
New to Dinnerly? Sign up today with this year's most popular discount voucher!