Avoid fumbling your turkey day plans with this day-by-day timeline to make cooking Thanksgiving dinner easier than pie. Which dishes can be made ahead? Can I reheat mashed potatoes? Who do I seat next to the in-laws? You're on your own for the last question, but not to fear—the Dinnerly test kitchen experts are here! Stick with us and the only sweating that happens on Thanksgiving will be the veggies in your sauté pan.
Monday: 3 Days Before
Defrost your turkey
Don't forget to defrost a frozen turkey! The time you need to defrost depends on its size. A good rule of thumb: Place the turkey on a sheet pan in the fridge and allow 1 day of defrosting for every 4-5lbs.
Cook your cranberry sauce
If you're invested in making your own cranberry sauce (I mean, we love the canned stuff too!), then this is a dish you can easily prepare ahead. Cook your cranberry sauce up to a week before Thanksgiving. Be sure to cool completely and refrigerate in an airtight container until the day of. 
Make-ahead gravy
Gravy is usually made from the drippings of the roasted Thanksgiving turkey, but if you want to save time, you can make super tasty gravy days before. Roast turkey wings (chicken works here too!) with aromatics to create homemade stock and drippings to make a gravy with, or skip the roasting and use a high quality turkey stock or bone broth to use as the basis for your gravy. Once cooked using the method of your liking, allow it to cool completely, cover, and refrigerate.
Tuesday: 2 Days Before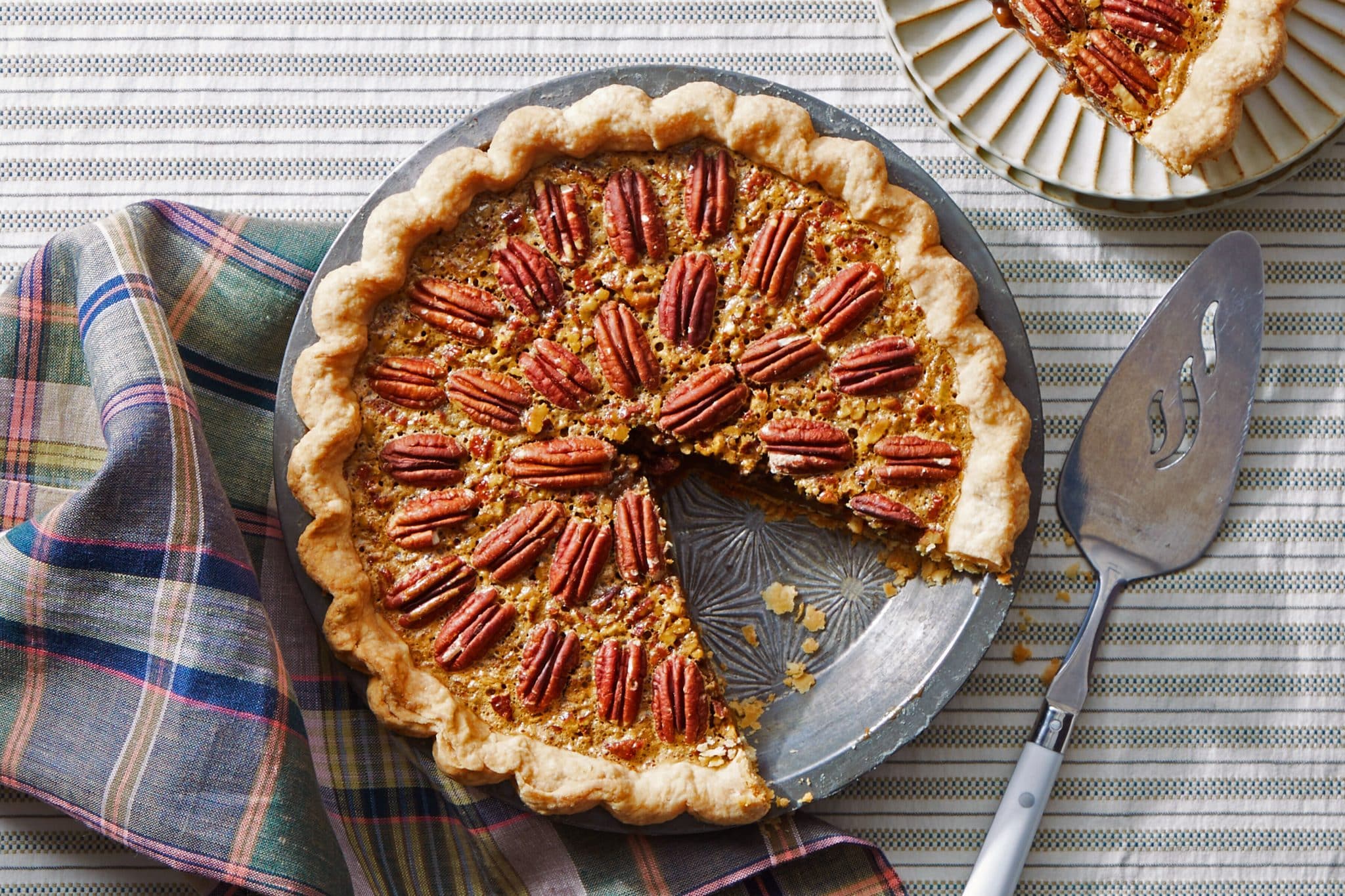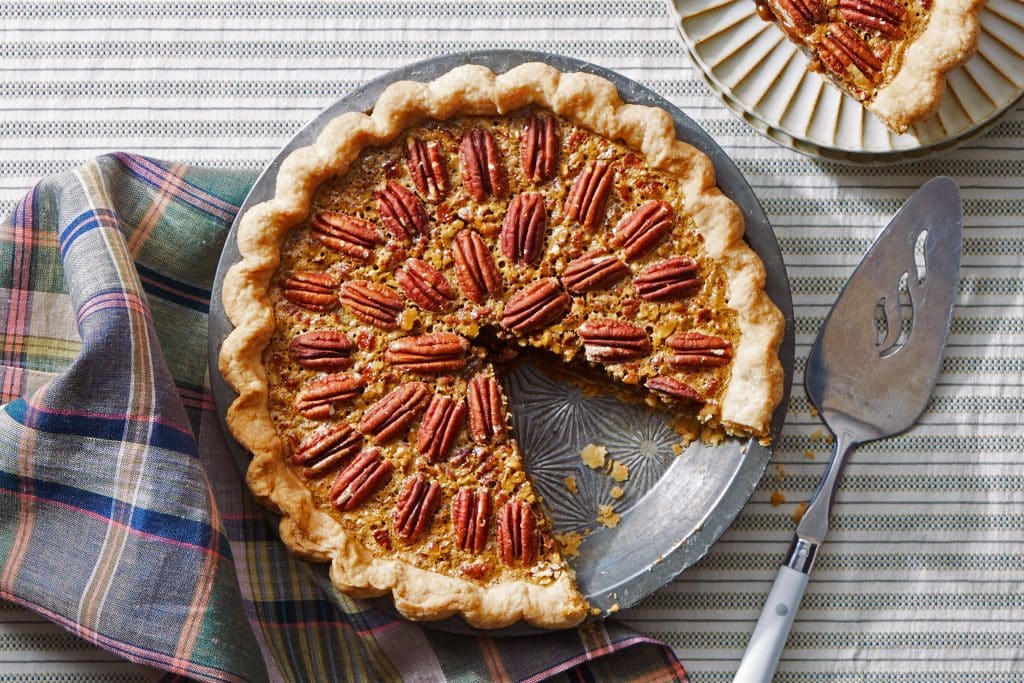 Bake your pies
Homemade pie, like our Maple & Caramel Pecan Pie, can be made days ahead of time! Prepare your pie dough, cover tightly in plastic, and store it for up to 3 days in the fridge, until you're ready to assemble and bake. Better yet, bake the whole pie ahead of time! Once the pie is completely cool, just cover and store in the fridge. 
Whether dry or wet brining your turkey, the key is to do it AT LEAST 24 hours (or better yet, 36-48 hrs) ahead of time to lock in the max moisture and flavor. If you're opting for a dry brine, leave the turkey uncovered in your fridge. If it's a wet brine, put the turkey and liquid brine in a large container in the fridge, rotating the turkey twice a day.
Wednesday: 1 Day Before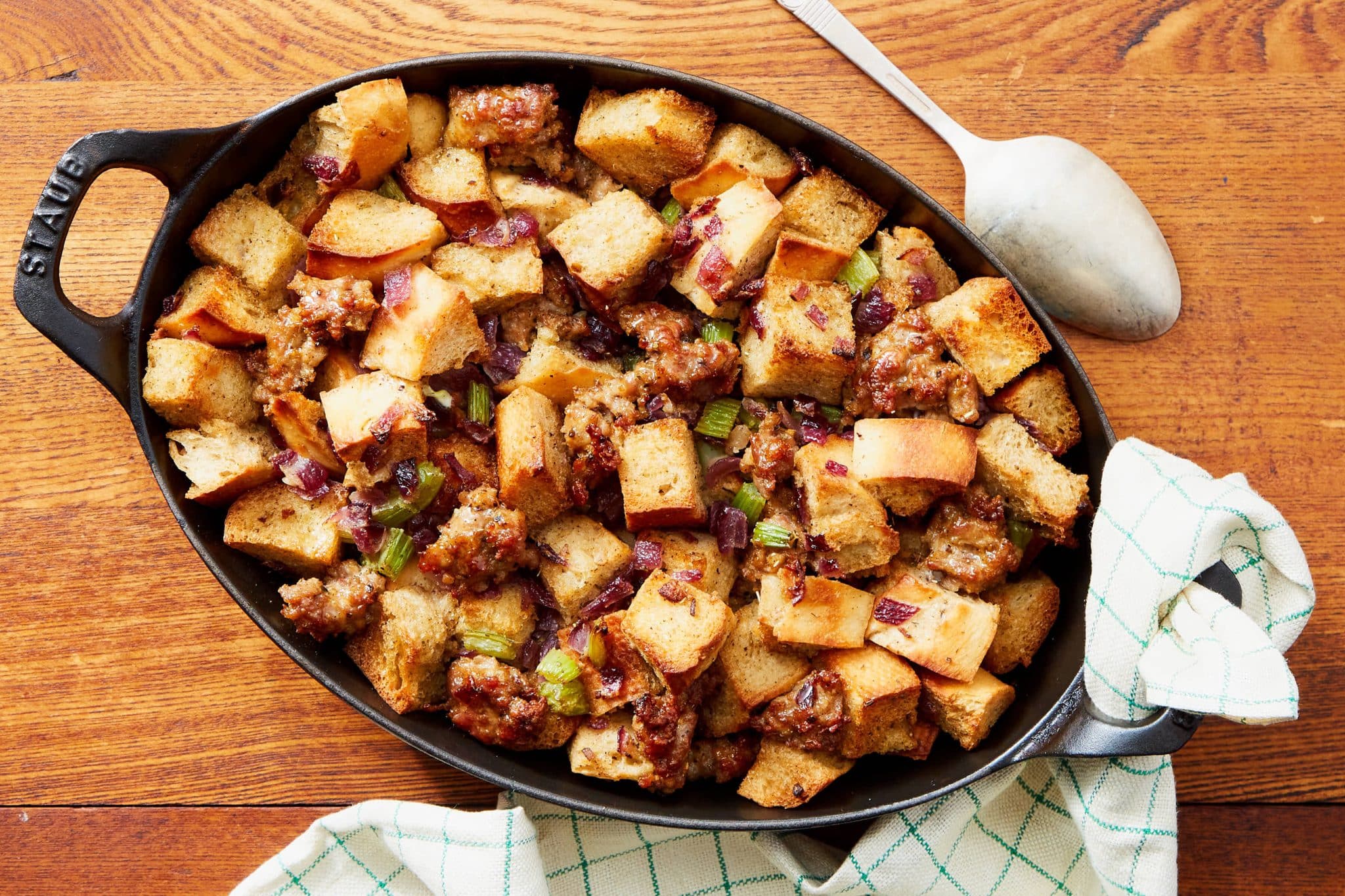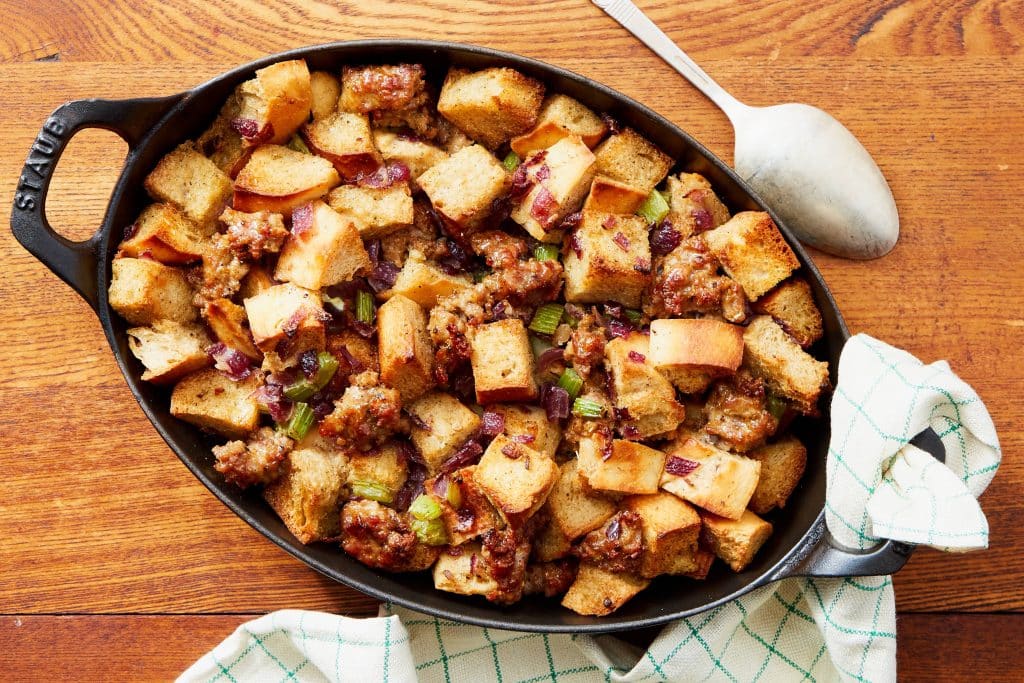 Prep stuffing
Stuffing is best when made with dry bread. That's why we recommend tearing and leaving out your bread pieces on a sheet pan the day before. If you're in a time crunch, you can bake the bread pieces in the oven same-day, like in our favorite Sausage Stuffing recipe. Go ahead and prep and sauté your aromatics or veggie add-ins. Allow to cool completely and keep refrigerated until you're ready to assemble and bake your stuffing on Thanksgiving day.
Make Mashed Potatoes
One of the most tedious tasks, you'll be relieved you got this out of the way ahead of time! Make our favorite mashed potato recipe, allow to cool completely, transfer to an airtight container, and store in the fridge.
Similar to stuffing, we always get ahead of this one by doing the trimming and chopping a day ahead of time.
Thursday: Thanksgiving Day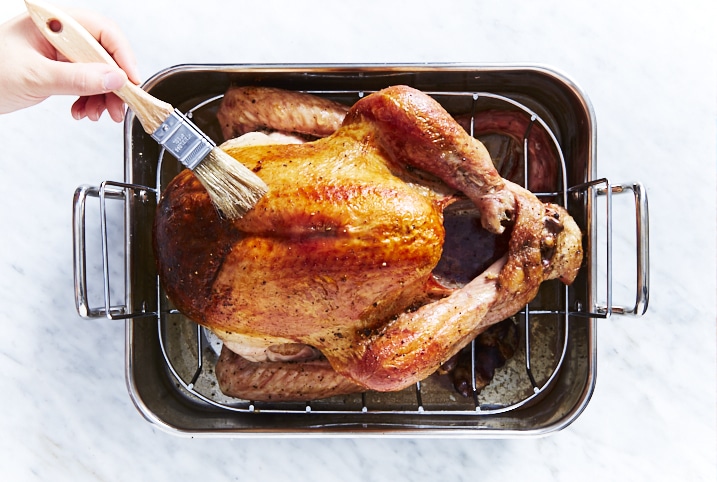 Roast Turkey
Maximize flavor by dressing up your turkey with an herby compound butter and adding aromatics to your roasting pan like lemon, onion, carrots, thyme, and rosemary. Remember not to rinse that beautiful brine off before doing so! To roast your turkey, cook it at 325°F until it reaches an internal temperature of 160°F (note: the bird will continue to cook when you take it out of the oven). A good rule of thumb is about 12-15 minutes in the oven per pound. Wondering if you should cover your turkey while cooking? Hint: This cheesecloth method is our test-kitchen approved way to cook a turkey that's perfectly moist with extra crispy skin. 
Assemble Apps and Cheeseboard
Assemble your favorite crackers, meats, cheese, dried fruit, jams, and more for grazing. Even get curated ingredients for a tasty board delivered to your home!
Build your stuffing by combining your ready-to-go bread pieces, pre-cooked veggies and aromatics, and stock. Once well combined, transfer to a baking dish and cook! 
Now that you've prepared your veg, these are quick, and easily done the day of. 
Reheat what you already cooked:
Mashed potatoes

: Yes,

mashed potatoes

can be reheated. Add your mashed potatoes to a pot and heat it over the stove over low to medium heat. While your potatoes reheat, add extra moisture with more butter or milk so your potatoes don't dry out. Serve once they're warmed through.

Gravy

: When you're ready to serve, simply reheat gravy in a saucepan on the stove top until it's warmed through. If you're feeling up for it, whisk your roasted turkey drippings directly into the saucepan for a flavor boost! 

Pies

: Take any already-baked pies out of the fridge or freezer so they come to room temperature. Reheat

pie

in the oven at 350°F for 15-20 minutes or just until warmed through. 
Friday: Thanksgiving Leftovers
What we're MOST thankful for: A Thanksgiving Leftover Sandwich for Friday lunch. 
Ready, Set, Eat!
Woohoo! You're officially ready to put together a Thanksgiving menu the whole fam will gobble, gobble, gobble up. Bonus: To make turkey day easier than pie, add some oh-so delicious recipes from our Thanksgiving menu to your Dinnerly box!